Rouyn-Noranda Campus
A modern campus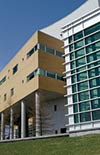 UQAT is an important institution in Rouyn-Noranda. Its main facility is among the most modern in Quebec. Its bold architecture reflects UQAT's mandate very well: to open students' minds to the world. The delivery of unique programs in Quebec and the presence of internationally recognized researchers make the Rouyn-Noranda campus an unrivaled multicultural environment in Abitibi-Témiscamingue!
Rouyn-Noranda, a student town
Rouyn-Noranda is one of the major towns in the Abitibi-Témiscamingue region, as much for the services it offers as for its population. It boasts some 40,000 inhabitants and each year, welcomes close to 5,000 students who attend the university and the CEGEP. In addition to having all the advantages of a town close to nature, Rouyn-Noranda provides a diverse social and cultural life, not to mention several sports centers, a variety of restaurants and cafés, movie theatres and several entertainment venues.
An exciting life beyond the classroom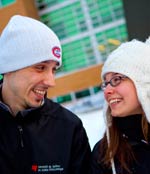 Floor-hockey league
With the various student clubs, the Bistro de l'UQAT and the many sports facilities on campus, there is a wide range of activities to choose from at the Rouyn-Noranda campus: improvisation, floor-hockey, green initiatives, inter-university competitions, etc. Great fun guaranteed!
During the year, UQAT organizes several exciting initiatives for a richer, fuller student life, including back-to-school activities, conferences, cultural events and workshops.
Contact Us
445 boul. de l'Université
Rouyn-Noranda (Québec) J9X 5E4
Tel.: 819 762-0971
Toll free: 1 877 870-8728
Fax: 819 797-4727
information@uqat.ca
Access and Maps (Fr)