Amos Campus
Pavillon des Rapides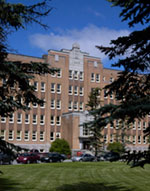 Pavillon des Rapides

The Amos Campus is housed in the Pavillon des Rapides, a name in reference to the rapids of the Harricana River that flows nearby. Built in 1940, this building is a testament to Amos' vocation as the centre of education in the Abitibi region. The Amos Campus offers full-time undergraduate programs in forestry as well as several part-time programs. It accommodates research teams as well as graduate and post-graduate students from various countries. Hospitable induction arrangements, favorable study conditions and resourceful student support are the pride of this campus.
Amos, a town of culture and knowledge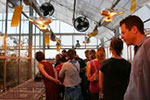 Forestry greenhouses
Amos, a town of innovation and research, confirms its vocation as a pole of advanced studies. Situated in the heart of the MRC d'Abitibi where almost 25,000 people live, Amos is only a few kilometers from the village of Pikogan. The forestry industry represents a major sector of activity, ahead of agriculture and mining. Amos is also known for its crystal clear bottled water, Eska, which ranks among the world's best.
A quiet town offering its residents an enviable quality of life, Amos provides all the services of a large city: a hospital, conference facilities, a shopping centre, restaurants, cinema, theatre, sports facilities, cultural and outdoor activities, etc.
Contact Us
Pavillon des Rapides
341, rue Principale Nord, bureau 5004
Amos (Québec) J9T 2L8
Tel.: 819 732-8809
Toll free: 1 866 798-8728
Fax: 819-732-8805
amos@uqat.ca