First Peoples
Val-d'Or Campus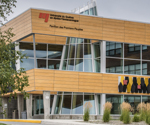 Val-d'Or Campus
Situated in central Val-d'Or, UQAT delivers an interesting range of programs responding to the aspirations of those attending the Val-d'Or campus. Over the past few years, UQAT has seen an increase in the number of students at the campus. Some of them come from overseas and from Aboriginal communities.

New! Join Project Share
First Peoples Pavilion
The First Peoples Pavilion stands proudly in the heart of Val-d'Or, welcoming most of UQAT's Aboriginal students. If its architecture pays tribute to Aboriginal cultures, the Val-d'Or campus is first and foremost a place where cultural differences are respected and valued. More than just a building, the First Peoples Pavilion is a concrete expression of UQAT's desire to offer services tailored to the needs of its students.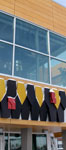 Cohésion boréale
Art at the heart of the First Peoples Pavilion
The First Peoples Pavilion is a unique place for artistic expression.

Cohésion boréale
Huron-Wendat artist Ludovic Boney, born in Wendake, created Cohésion boréale to ornate the exterior facade of the First Peoples Pavilion. A contemporary representation of the First Nations' role in the development of the region, Cohésion boréale evokes the cohesion among the various populations associated with the rise of the First Peoples Pavilion.

Tee-pee
The stately, 12 m high tee-pee in the lobby of the First Peoples Pavilion symbolizes family and stability. The logo of UQAT's Aboriginal educational project, adorning the circle at the bottom center of the structure, bears the imprint of force and unity. The four colors of the circle illustrate the solar cycle.

Salute to Mother Earth
After consulting Aboriginals and non-Aboriginals, the building designers integrated ornamental features to recreate the natural environment. In the multi-purpose room of the Pavilion, a flock of geese heading north dresses up the ceiling, a fireplace stresses the importance of fire and tree crowns give natural character to the whole setting. All these elements of nature pay respect to Mother Earth.
A student life tailor-made for students
Thanks to numerous personalized services and an approachable, dedicated staff, students on the Val-d'Or Campus benefit from a student life that fits their needs and interests. The UQAT Student Association (Val-d'Or Campus), the socio-cultural committee and the Aboriginal student life committee (Val-d'Or Campus) are networks where students can become involved in the organization of social, cultural and sporting activities and contribute to making this campus an exciting, stimulating environment.
Contact Us
675, 1re Avenue
Val-d'Or (Québec) J9P 1Y3
Tel.: 819 874-8728
Toll free: 1 866 891-8728
Fax: 819 825-5361
vd@uqat.ca