First Peoples
The First Peoples' University

Portail en français ici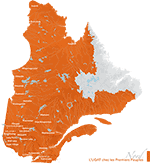 Click to enlarge
Open to the world's diversity and mindful of cultural differences, the Université du Québec en Abitibi-Témiscamingue distinguishes itself in Eastern Canada by the important role it plays in Inuit and First Nations communities.
By offering programs respectful of Aboriginal perspectives and educating a First Peoples workforce that also includes professionals, UQAT contributes to the improvement of living conditions for Aboriginal people. Today, UQAT is proud to include more than 200 Aboriginal people among its graduates.
Driven by the enthusiasm to share its expertise, UQAT has participated in numbers of projects in numbers of Aboriginal communities. It has covered the entire region, but also traveled everywhere around Quebec. The map below shows communities with whom UQAT has worked in partnership.
First Peoples Services

A point of initial contact and support, and a sympathetic ear for students
The UQAT Val-d'Or campus distinguishes itself by offering support geared towards both Aboriginal and non-Aboriginal students. The First Peoples Nations Services employs a majority of Aboriginal staff with diverse higher education backgrounds.
A holistic vision
First Peoples Services offers services according to a holistic approach, centered on the individual and his or her physical, mental, spiritual and emotional needs. The individual as a whole is considered, and problem situations are addressed globally. This approach is also an inclusive one, as it can be applied to both Aboriginal and non-Aboriginal students.
UQAT's educational project in relation to Aboriginal peoples
The logo is inspired by certain Medicine Wheel teachings and by the holistic approach, which, with its four large segments within the circle, illustrate the relationship that can exist between the parts of a whole. Read more...